Vcentre 6.7 U1 has been out just over a month now, normally, I like to get the latest versions deployed almost as soon as they are released simply so that I can try things out but I was a bit late to the party with this one.
When U1 was released I knew it was way past time to upgrade, besides, this is the version where VMware state that they have feature parity between the HTML5 client and the Flash client so I couldn't miss out on that. The HTML5 client has always out performed the Flash client and is generally just much nicer to use than the flash client.
The VCSA ISO file is pretty weighty at 3.5GB but downloaded with no issues. One nice thing about it being in an ISO format was that I could just mount it on my Windows 10 machine and run the install from there. It's nice to not have to burn ISO files or rely on third-party tools to mount them!
The VCSA installer is located at X:\vcsa-ui-installer\win32\installer.exe and the install menu is pretty nice and I like how prominent the Migrate option is. At some point I will have to spin up a windows machine just to try out the migration process.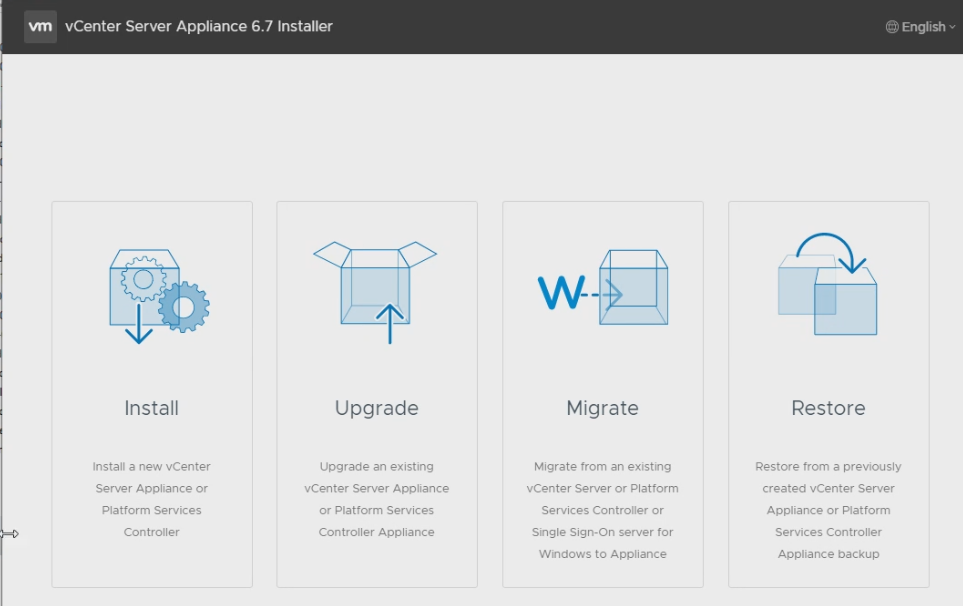 For now though, I just wanted to upgrade from VCentre 6.5 to 6.7 so selecting upgrade brought me to a wizard that required various information like the name or IP of the Vcentre server and the host that will have VCentre installed to it.
As it's an upgrade, the process that the installer follows is an interesting one. It deploys the appliance on a temporary IP via an OVA file, brings it up, brings the data across from the old appliance, shuts down the old appliance then re-ip's itself. Quite a neat approach all in all.
Once all the installer has been given all of the settings there is a summary screen at the end of the install: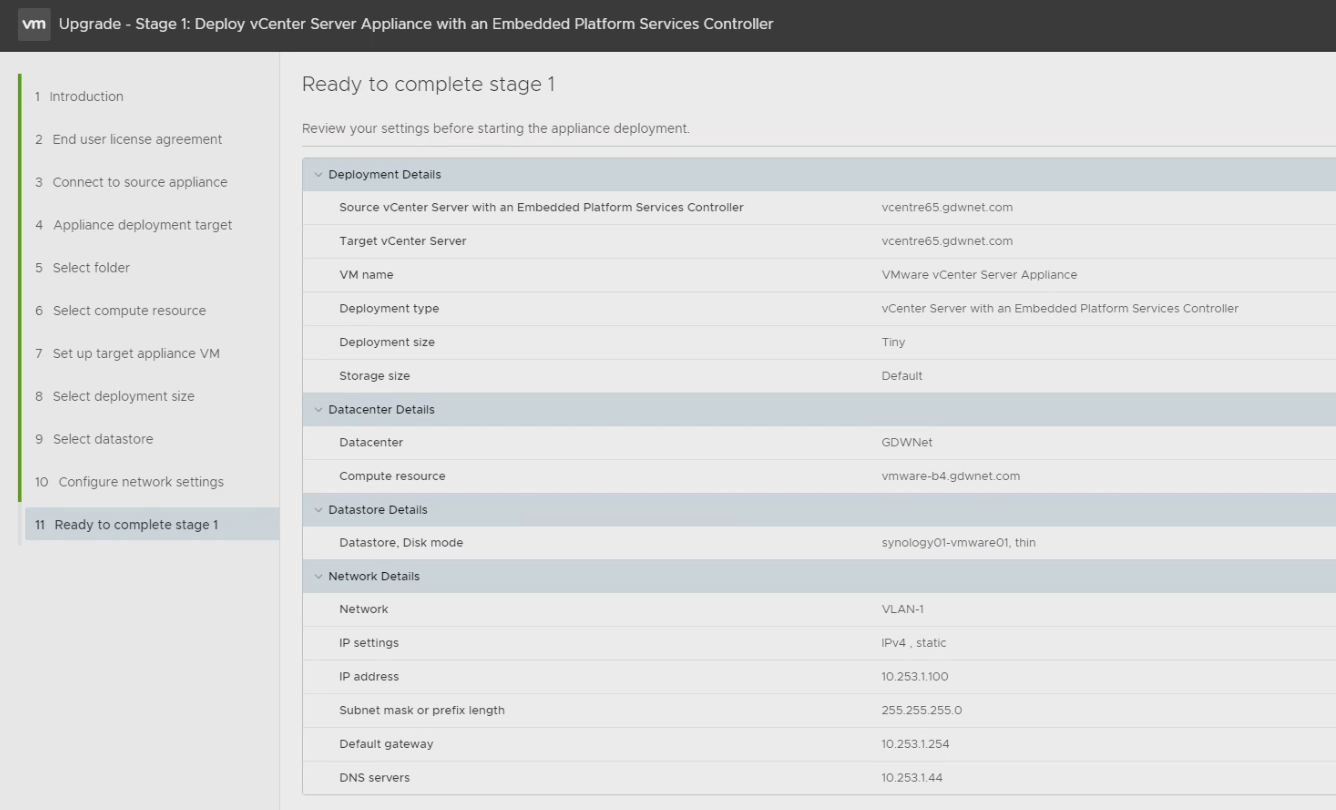 At this point it was a matter of hitting finish and sitting back. I was expecting everything to just work but..........

This was odd because the error doesn't make much sense. For a moment I thought it could be permissions related so I tried the install again and double checked all the passwords were correct - they were. It failed again.
Digging in to the log file itself just made things more confusing:
2018-10-23T10:37:35.076Z - error: No VM found with hostname 10.253.1.100
2018-10-23T10:37:35.076Z - debug: Error in getVmWithIPFQDN: No VM found with hostname 10.253.1.100
No VM found with Hostname 10.253.1.100 - of course not, that's an IP address, not a hostname. I really got stumped at this point because the error made no sense at all.
I had forward and reverse DNS working with everything and I'd even tried IP addresses! I was stumped for a good few hours.
It turned out that I was on a company VPN as I'd been doing some remote work earlier in the day and I've no idea why that screwed up the install especially as I was on the same subnet as both the 6.5 VCSA box and the the 6.7's temporary IP would be on that subnet as well. Everything really should have been just layer 2 traffic but, for whatever reason, the VPN connection was the cause.
I do have to thank folk on twitter for providing some suggestions which helped me work out where I'd screwed up.
After that, the upgrade was actually boringly easy. Phase 1 is the install of VCentre 6.7 on the temporary IP and Phase 2 is the import of the old data. One interesting little warning I did get during phase 2 was this: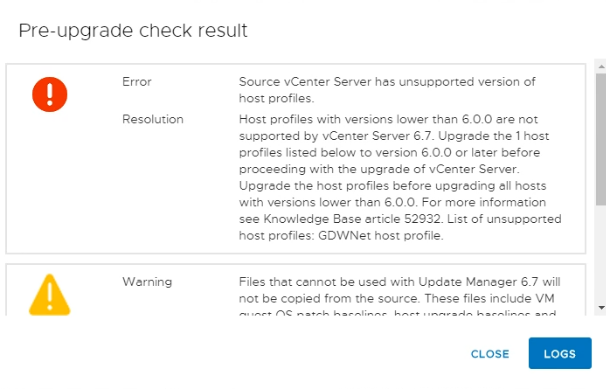 The host profile in question was just something I was messing around with but I'd created it in VCentre 6.5 so I was a little surprised that it wasn't compatible. I wasn't too bothered about it so I just deleted the profile and tried again. I did like how the installer made it very clear what the problem was and with which host profile.
Another set of pre-upgrade checks and now I had this warning: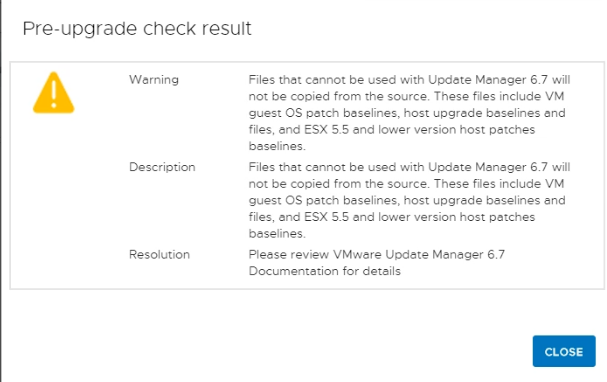 This one also makes sense, VCentre 6.7 isn't compatible with anything older than ESXi 6.0 so why keep upgrade files for anything older?
The next part of the install is probably the one that you should read carefully, especially in corporate environments as it's the one about what data you want to import how just how much data that is: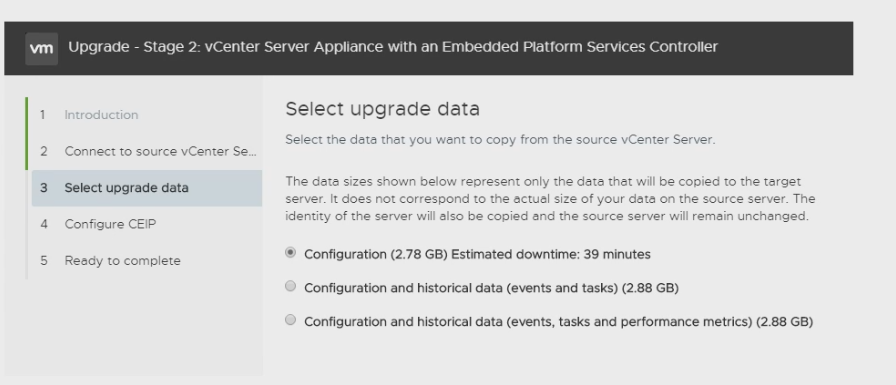 My install is a lab install so not that big and even I had 2.88GB of data including performance metrics in the database. I could easily imagine some companies having a few hundred GB. In some cases it might be easier to install a new VCentre 6.7 appliance and just drop the ESXi hosts in although that would lose the performance data as well as the tasks and events data so that's got to be down to an indivial choice. For me, the total time was about 90 minutes. It took longer to start the services than to migrate the data - however, this is on older lab hardware so I'm not surprised.
The last screen I saw was just an informational screen about how VCentre 6.7 drops TLS 1.0 and 1.1 - a very sensible move given that 1.2 is standard and 1.3 has just been ratified.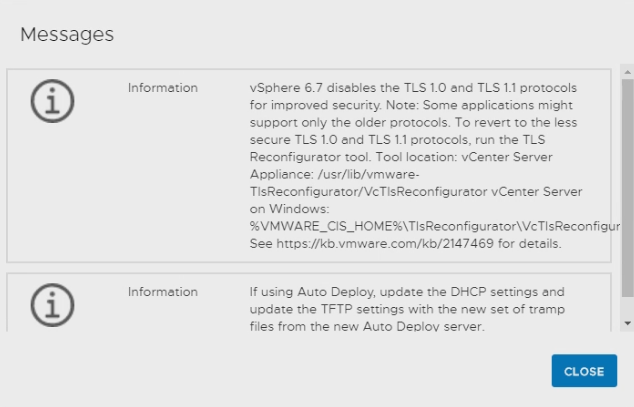 All in all, aside from my silly VPN mistake, the upgrade process was incredibly smooth and pretty much hands off. It does take the VCentre appliance out of action for a few hours during the migration so do expect downtime which means that you will probably need to schedule the work in although you can still manage VM's directly through the host console. One tip here - Exporting a list of all the VM's and what host they are on via powercli can come in very handy. Alternatively, you can use RVTools and just make the details available.
The last part of the upgrade for me was to upgrade my lab ESXi hosts to 6.7, unfortunately this wasn't possible due to the CPU's being too old:

I did upgrade all of the hosts to ESXi 6.5 build 10175896 so I think it's all in pretty good shape and I've seen a few workarounds to get 6.7 working which I'll take a look at over the next few weeks.
Subscribe to Ramblings of a Sysadmin
Get the latest posts delivered right to your inbox